EARLY CHILDHOOD EDUCATION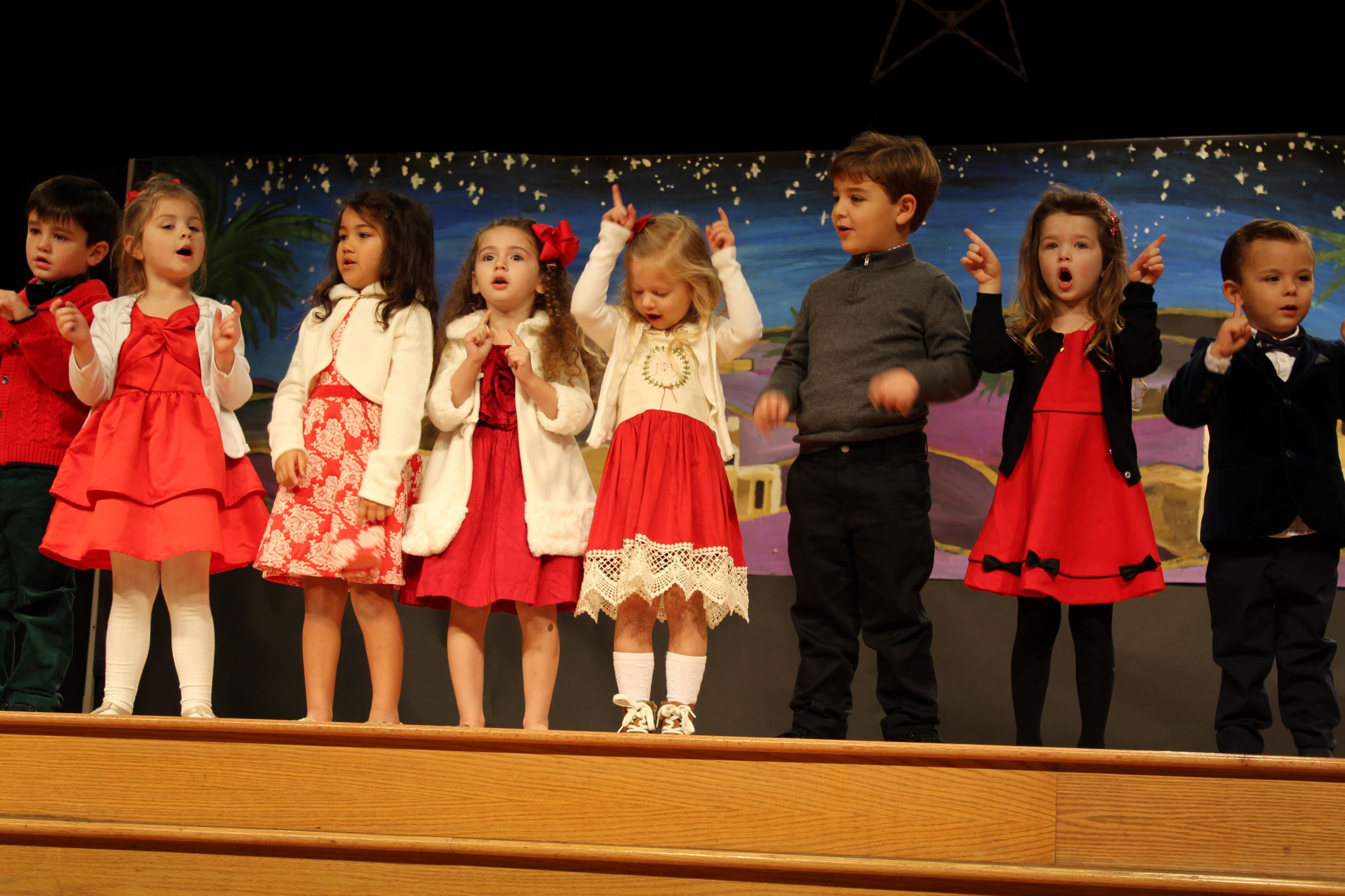 The Early Education program at The Nativity School encompasses Preschool through Kindergarten. We recognize that the early childhood years are the foundation for all future learning. They are the most important and influential times in a child's life. They provide the best opportunity to cultivate a life-long love of learning. Our developmentally appropriate and challenging program is the perfect balance between a traditional preschool philosophy and a Montessori philosophy that has been beautifully and thoughtfully created to ensure the very best of learning in early education, in a nurturing, loving environment that both piques a child's natural curiosity and awakens inspiration in young learners.
Our goal is to start preparing the child for kindergarten when they enter preschool. This is achieved in a Christ-centered, developmentally, age-appropriate manner as we seek to educate the whole child: spiritually, emotionally, academically, and physically. We look at each child as an individual and strive to meet the needs of each child within the classroom setting, realizing the strengths and weakness of each. We believe that each child has been gifted by God and we seek to enhance their individual gifts. They bring to us all that they are and we give to them all that we can to ensure the absolute best as they embark into the world of formal learning.
We believe that social-emotional development is of the utmost importance. A child will only progress properly if they are healthy socially and emotionally. Our "Character Strong" program ensures growth in this very important area of development.
Pre-School/Pre-Kindergarten
The Nativity School's Preschool is a unique program that cultivates the emotional, physical, academic, and spiritual development of its students like no other preschool in the area. The attention given to each child fosters a balanced atmosphere that is cheerful, nourishing, and orderly. The classroom is filled with manipulatives and hands-on activities because learning at this age level is an up-close and tactile experience. The environment encourages young students to explore their own curiosities and challenges them to master language and math concepts. Children develop a love for learning and social skills which are the foundation for future success.
Our preschool is open to emotionally ready three-, four- and five-year-old children who are toilet trained. We offer full and half day options.
Transitional Kindergarten
Our Transitional Kindergarten (TK) program also continues to follow the model that is set up in our Pre-K and Preschool programs. This continuity and consistency allows those students who need another year before Kindergarten to have the familiarity that they need to progress and develop in the areas that they need to become more proficient in.
Transitional Kindergarten offers families with students who fall outside of traditional age cut-offs, or who simply need an extra year of preparation, a "bridge" year between Pre-K and Kindergarten. Students in this program gain an extra year to grow in their academic, social, and/or emotional development to be best equipped to meet expectations and confidently succeed in a traditional Kindergarten program. Our TK program is designed for those students who have completed our Preschool AND Pre-K program yet need that extra year. If your child is not able to join us for Preschool or Pre-K, TK acceptance will be on a case-by-case basis. Our TK program will serve the student who turns five before December 31.
Kindergarten
Kindergarten is the capstone in The Nativity School Four-Year Early Childhood Education Program. The Kindergarten Program instills a stimulating curriculum within a Catholic environment, which seeks to promote a love of learning among children who are nurtured and accepted for the individual that God made them to be.
During this foundational year, encouragement and positive reinforcement are used to allow individual development, socially, emotionally, physically, and academically. To accomplish this in our Kindergarten program, the following goals are emphasized:
Responsibility to foster confidence and self- reliance

Respect to promote mutual acceptance and caring

Patience to progress at an individual rate
Students enter Kindergarten with a wide range of skills. All learning requires positive guidance, time, encouragement, and acceptance. The Kindergarten curriculum is presented in a developmentally appropriate manner for each individual learner. This is done through a Montessori based curriculum and teacher directed learning. This is a critical part of our proven successful Kindergarten program.
The Kindergarten teachers promote self-discovery and self-awareness. A community where every student is experimenting, taking risks, and learning. As well as:
Foster independence and help children gain and use skills necessary for working in small groups and as a whole class.

Function well as group members, who ask for help and are helpful, who complete a task and put things away.

Encourage students to move beyond their current level of understanding.

Encourage active learners.
The Kindergarten curriculum is designed to address all areas of development (social, emotional, physical, and intellectual) and to meet the needs of a diverse group of learners. Throughout the Kindergarten day, children have opportunities to explore, investigate, and predict. The Kindergarten classroom is a safe, supportive, and welcoming environment. It provides children with a variety of opportunities to try out new ideas and be challenged with new experiences that engage budding readers, writers, scientists, mathematicians, and artists. Teachers help children to feel empowered, valued, and listened to, and to be competent and successful in school as active, engaged learners.